MACHINE TOOLS

Automation plants for machine tools
The machine tool is a machine designed to transform the shape and size of objects in any material, via the selective removal of surplus material, using tools.

The term machine tool is usually used to define machines that use a source of motion, and therefore energy different to human movement, even if an operator is sometimes required to run the same.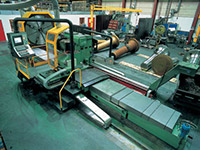 The first real machine tools were created when production processes of mechanical pieces (in the case of tools, moulding and sharpening) no longer directly involved human action, that is when it became possible to use machines for these operations.

The machine tools are mainly used in the manufacturing and mechanical industries, especially in machining metals.
---

Examples of automation plants for machine tools:
Customer: ORT Italy (CR)

• MS range hydraulic rolling machine with roll-support spindles with one mobile head

• RP/2RP range hydraulic rolling machine with roll-support spindles and 1/2 mobile heads

• 3RP range hydraulic rolling machine with roll-support spindles and 3 mobile heads (with servo-valves controlled by cnc)

• Finned aluminium pipe rolling line for cooling circuits (3RP range machine with servo-valves controlled by cnc)

Customer: HTP (BS)

• Technical assistance for various automatic machines

Customer: Ingotools (BS)

• Machine tool retrofitting

• Widia cutter for special tools

• Manual rectification conversion into automatic machine with cnc

• Technical assistance for various automatic machines

Customer: ZRT (BS)

• Aluminium profile cutter

• Deburring machines for die-cast pieces

• Sheets load and unload portal

Customer: Trg (CR)

• Retrofitting roll rectification for rolling machines (MSO rectification)

Customer: Crs (CR)

• Retrofitting rectification of threading roll creator (MSO rectification)

• Technical assistance for various automatic machines

Customer: Interlam (BS)

• Machine tool retrofitting

• Iron blade and disk profile milling machines for fodder and haymaking trucks (agricultural spare parts)

• Technical assistance for various automatic machines